The following interior designer ideas illustrate how modern stair rods are currently used in fashionable decorative schemes. No longer simply a design feature for period houses, today they are regularly specified in contemporary show-homes. Whether you are looking for quirky, glamour, humour or fine design, stair carpet rods have a lot to offer.
Pack a punch with patterned rods
Not many people know that some designer stair rod ranges can be made-to-order with patterned rods. So, not only do you choose the metal finish and the design of the end finials but you can introduce texture and design into the actual rod too. Whilst a plain, smooth rod is standard, the spiral and reeded patterns make a fabulous decorative accent, repeated all the way up your staircase.
If you like to create your own style-guide, then why not alternative or mix 'n match your rods? One step plain, one step spiral and so on… The Vision and Crystal designs are certainly worth a look.
Take the clip option
The stair clip has been reinvented, encouraged by the popularity of striped stair runners. Creating a brief horizontal interruption to the stripes, they focus attention on the stair runner.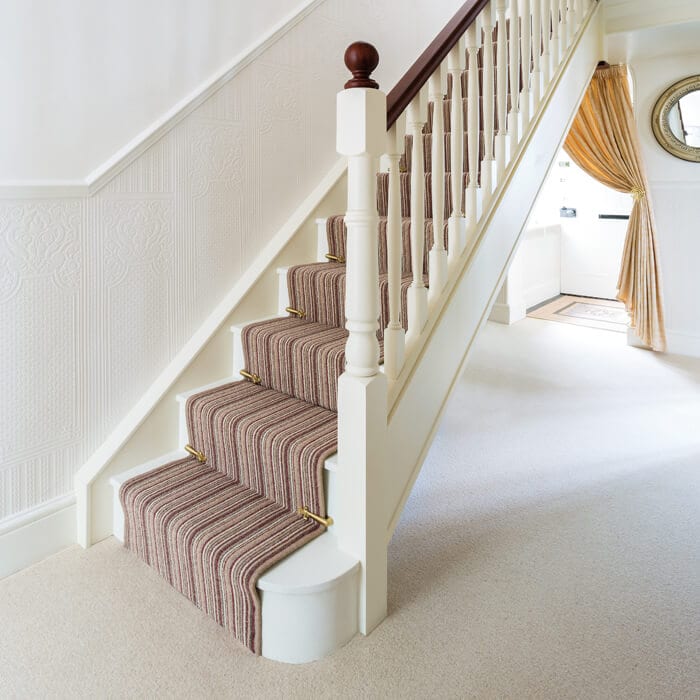 Cut a geometric dash
The majority of modern stairrods are cylindrical and some are very skimpy too at just 9mm diameter. However, there are one or two ranges which feature a flat face. The Beaumont for instance or the striking Vue boast a mighty 25mm surface, which optimises light reflection and impact.
Get creative with Carpet Studs
These domed-shape studs add a new dimension to a stair runner or fitted carpet. Stud your treads and risers alike, co-ordinate the finish with your carpet rods or introduce a contrast, the options are endless. What's more, a pot of 10 costs just £17.85.
Tell a story
We often read about celebrity houses which have been decorated with a personal "design theme". From 1960s retro to showcasing their collection of show business pianos, people like to style their homes to reflect who they are. Whilst we may not all be ageing rock-stars, we can do likewise, in a more modest way. If you have a passion for all things Scottish, then the Arran runner rod design may appeal. A stylised thistle, it will tell your story for evermore. For those with a calling from the East, then the Cairo design, inspired by the onion domes of that region, is a striking choice. And of course, there is the solid brass Windsor if you have aspirations of royalty!
For more information and where to buy the products mentioned: tell me more.