Spring is in the air and it's a great time of the year to chase away the winter blues with a touch of decorating. Here we take a look at three fresh ideas for stair carpet runners to rejuvenate that dull old staircase at the heart of your home.
Naturally inclined with wooden stair rods
These Tudor wooden stair rods have a beautifully rich tone, reflecting the natural styling of the sisal stair runner. Creating a luxury, warm feel, they feature a flat face, rather than the more normal cylindrical rod, and come smartly tipped in metal. These rods score well on impact, especially when contrasted against the creamy tones of the painted staircase.
Clipped edges back in vogue for stair runners
The traditional stair clip is making a come-back. For anyone who has a runner carpet and is hesitant about a full-blown stair rod, these are an elegant alternative. Made in solid brass with an attractive fleur-de-lys decoration, they are available in a choice of contemporary finishes, including satin nickel, brushed chrome and black. Clipping the edges of this snappy, striped runner, the polished brass stair clips provide a warm glow against the newly painted, classic staircase. So fresh and uplifting.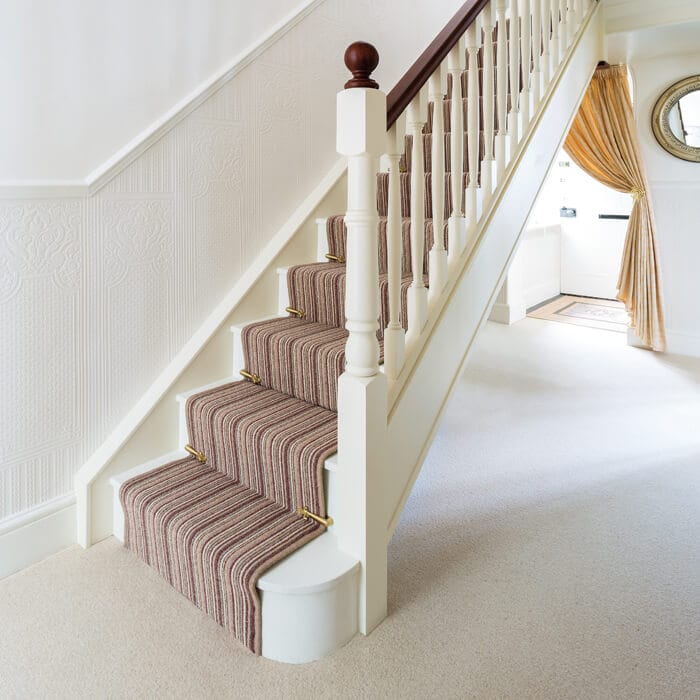 Add sizzle to your stairs with coloured carpet binding
Colour is so emotive and the hues we choose for our interiors play an important role in influencing our moods and state of mind. The Blue Dunn colour (featured here) from the Easybind range of twisted rope runner binding falls into this year's on-trend sky-blue colour palette and suggests tranquil serenity. This silky blue binding creates a crisp contrast to the white of the runner, lightly dancing up the stairs. There are a host of other colours too, which offer endless ideas for making your own stair carpet runners.