A common problem occurs with hardwood floor to tile transition, when one floor is higher than the other. How can you successfully transition from one to the other and overcome the height difference?
The new Door Ramp solves the problem and can be bought online.  The issue is caused sometimes by the installation of underfloor heating fitted in your bathroom, as that tends to lift up the level of the tiled floor. It can also occur during building works, where levels have not quite worked out as planned or if someone has decided to cover up an existing floor with a new one, rather than take it up and start afresh.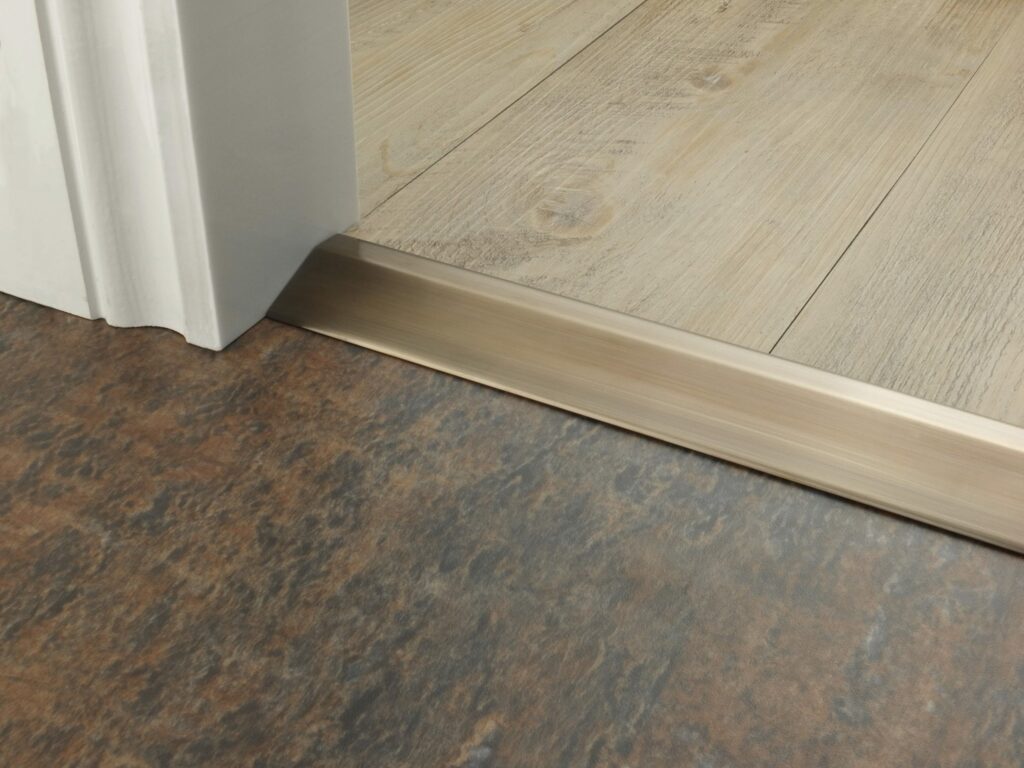 Self-adhesive hardwood floor to tile transition ramps
The resulting "step" can be quite significant and a trip hazard. Now, we have a brilliant new product which solves the problem. The Premier Door Ramp is designed for joining two hard floors, where you have a transition height difference. What's even better is that you stick it down. So, no screws to pierce your underfloor heating. It's a simple DIY task, which most people can manage.
Caters for up to 2cm in height difference
There are five different ramp heights, suitable to bridge the gap and floor level difference for most occasions: 10mm, 12mm, 14mm, 16mm and 20mm. In our experience, most customers have a 5mm – 15mm "step" (0.5cm – 1.5cm) which they want to span with a door threshold, so the new Door Ramp is going to be ideal for most situations.
The adhesive area is on the underside of the top bar, meaning that you can use the threshold ramp even with hard floors which float. For instance some wood laminate needs space to expand and contract and therefore having only the top of the Ramp fixed in place allows for an expansion gap underneath.
Ten robust and stylish finishes from brass to chrome
As with all of our door thresholds, we have gone for quality and this new range is made from solid brass and is seriously robust and tough. There are three alternative brass finishes (polished, antique and satin), antique bronze, and then six special finishes: pewter, polished and satin nickel, chrome and brushed chrome and black. So, you should be able to match up to existing door strips or other metal décor items, such as door handles and light fittings, in your home.
A classy, stylish door threshold and the major problem of hardwood floor to tile transition is solved!  The Premier Door ramp gets our vote!