For those who want cheap stair bars and are simply after the look rather than stair rods which will last a lifetime, then here are my top recommendations. But do beware, as with so many things in life, they are  cheap for a reason. Typically, that means there is a difference in specification from the quality stair rods which are also available in the marketplace.
Great value from Stairrods
The Homepride has to be on everyone's list at just £11.25 incl VAT and brackets. This runner stair rod is a classic and epitomises the popular acorn-styling of a traditional finial or end piece. Made by king-of-the-stair-bars sector Stairrods UK, in my opinion it stands up to the first-impression test. If you walk through the front door of a home and the Homepride rods are fitted up the stairs, they not only catch the eye but can give the illusion of spaciousness on even the narrowest of staircases. On the flip side, the finials are hollow and not as robust as those of more quality stair rods.
Great value for money (retail at £11.25). The rods are a 12mm diameter, not a flimsy 9mm option, and the price includes the brackets; these get my top vote.
A slender but good buy stair rod at £8.95
The Jubilee stair carpet bars come in a close second, in my view. However, it is worth noting that these rods are only 9mm in diameter and are certainly slender. This should not be a problem for anyone with a narrow staircase. But, if you are looking to make an impact on a standard width of step, then I'd recommend a 12mm diameter rod design. Like the Homepride, the Jubilee stairrods come with the bracket already attached to the finial; this makes them easy to cut to length at home rather than having to purchase custom-made designs.
A cheap but slimline carpet runner rod with an appealing ball finial. They retail at £8.95 incl VAT and brackets.
My personal favourite is the rich and shiny pewter finish, which works particularly well with the current vogue for grey and greige carpets.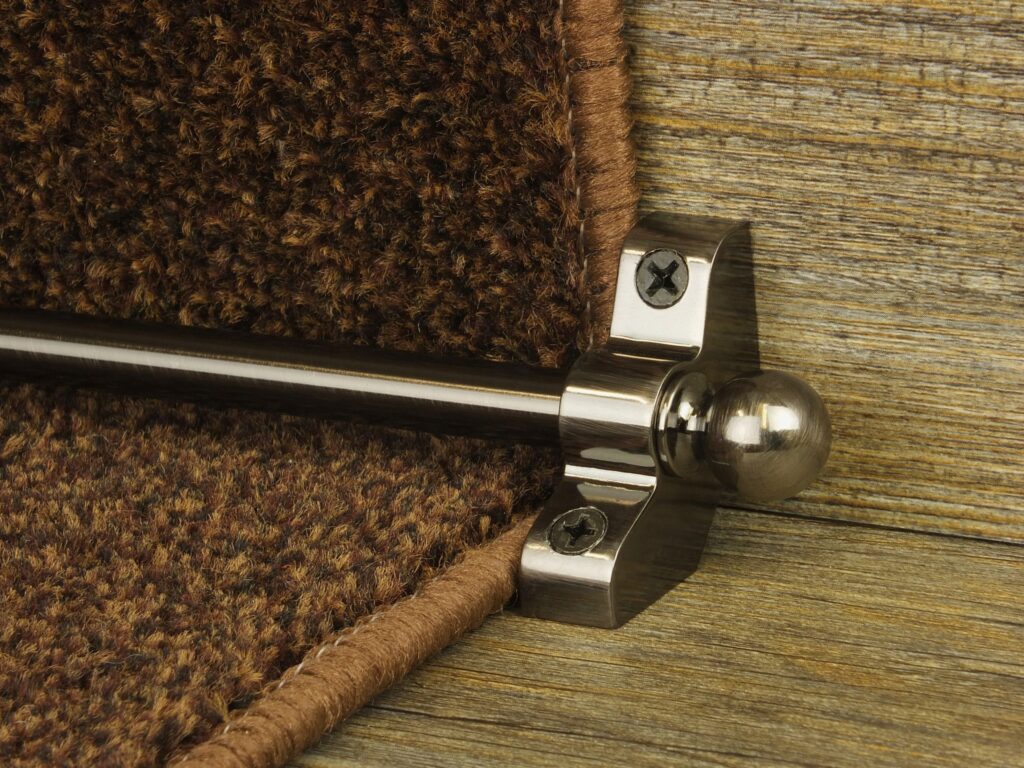 A stair clip alternative to cheap stair bars
My other recommendation, if you are looking for keeping your expenditure in check, is to consider fitting stair clips instead of carpet rods. For those wanting a traditional feel to their home, the Victorian Stair Clips works well. Perhaps a little more fiddly to fit than a standard stair rod and only suitable for runner carpets (not fitted stair runners), the stair clips will certainly appeal to anyone wanting to add character to their staircase. They are also quality-made in solid brass and come in a great variety of ten different finishes, including a period antique brass and polished brass.
Not strictly speaking a stair rod but still a good buy at £13.95 a pair.