Product Description
Stair nosings for laminate that are both practical and add style
Make a neat transition from your top step
The stair nosings for laminate – Ali Top Nose are manufactured in aluminium and suitable for joining a stair carpet to a 7-8mm thick laminate floorcovering.
The Ali is designed for lipping over the top step, securely covering the edge of the carpet and the edge of the landing laminate flooring.
Available in a choice of four finishes to complement both floorcoverings : chrome, polished brass, antique brass, black.
Likewise, it is offered in a choice of lengths: 900mm, 1800mm, 2700mm, which can all be cut to size at the time of fitting.
Robustly manufactured with an excellent, high quality finish that withstands frequent foot traffic.
More stair nosings available here.
Fitting tips for the Ali Top Nose
These stair nosings are suitable for laminate flooring fitted with 2mm underlay. Alternatively, if the underlay is thicker use the supplied mdf spacers to raise the Ali stair nosing.
Install a section of Easyshim to the riser if you wish to stick the carpet for an additional firm fix.
The Ali Top Nose is pre-drilled and countersunk at 150mm intervals and is supplied with Spax-M self-drilling screws.
For that extra style detail stair rods make an attractive decorative accessory to a carpeted staircase.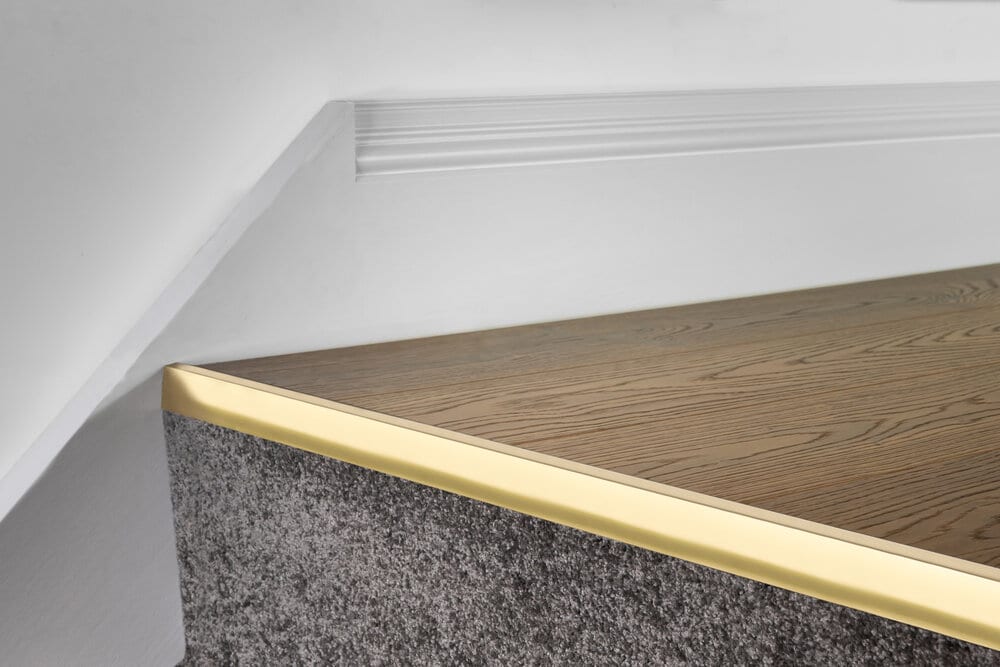 ---
Coordinating door bars and flooring trims to complement the Ali Top Nose laminate stair nosing
We sell a choice of brands of door thresholds and trims. Each brand has its own selection of unique styles and finishes. We therefore recommend you choose from the same range if you wish them to match in finish to each other. You can do a search by selecting RANGE in the filters.